This interview with Rachel Benyola– an Executive Coach with AIIR Consulting – was conducted and condensed by Candice Henderson.

Q: Where are you from?
I was born in Princeton, NJ, and spent the majority of my youth growing up in North Brunswick, NJ.
How has your background influenced your professional career?
During my early years in real estate, I gained valuable practice in building strong relationships and advising others with the critical life decision of buying a home. Over the last 10 years, I also founded and worked with several nonprofits in North and South America. During my time in both the real estate and non-profit sector, there was one factor that continually intrigued me: the leadership. I was fascinated by the leaders of each organization – how well they led their own teams, how they selected other team leaders, as well as what made them effective or ineffective. This was the reason I pursued a graduate degree in Psychology and an MBA in Entrepreneurship and Leadership.
What inspired you to become a coach?
When I founded a new training program through the Psychology Department at Rutgers University, I experienced my own ability as a leader to impact many people with a single decision. I also realized this kind of power needs to be handled with great care and strategy. As a result, I chose to pursue an education in consulting psychology during graduate school. From there my desire to influence other leaders and their impact on organizations grew exponentially, ultimately leading me to pursue my MBA at Drexel University.
What is your philosophy about human change, learning, and development?
Change before you have to! Personal reflection and an active interest in improving one's leadership opens the door to amazing possibilities. Waiting for a crisis to present itself before adapting hinders growth.
When you first started out in your work as a coach, what was one of your biggest mistakes, and what did you learn from it?
In the past, I would tell my clients that they could "call or text me with questions between our meetings". No one had taken me up on this offer until one client decided to unload 3-4 mass texts at a time involving intricate scenarios at work. From then on, I decided not to allow clients to text me unless it was in regard to rescheduling an appointment. The lesson I learned was to maintain healthy boundaries that do not create a client's dependency on me.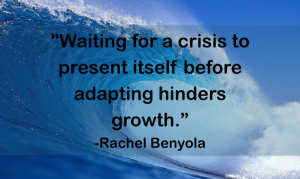 What are your strengths?
I have been described as being adept in observing and interpreting the behaviors of others. This allows me to craft a coaching approach based on both observable data and my intuition. Additionally, clients and colleagues mention that I work well with those who are resistant to change by balancing motivational encouragement and empathy with accountability.
How do you leverage your strengths in your coaching work?
To be an effective coach, it is critical to understand the coachee's perspective – how they experience their work environment and their colleague's behaviors. This reveals how the coachee processes situations and interactions, and gives insight into the vulnerabilities and strengths of their leadership style.
I draw from this understanding to see where the coachee's behavior and attitude does and does not match with the company's values. Once I uncover any discrepancies between the leader and the company's value system, I either advise on realignment or empower the leader to influence a shift in the culture.
How do you practice what you preach as a coach?
I have my own coach to guide me in making prudent career decisions. I also utilize my strength in empathizing with others to best understand their position so that I can imagine whether or not my expectations of them during our work is realistic. I give my clients honest, direct feedback because I know that patting someone on the back and saying what they want to hear rather than the truth hinders growth.
How has your coaching practice evolved over the years?
I began coaching early career professionals and entrepreneurs. Now, I also coach individuals within large corporations at the senior leadership level, in addition to CEOs and founders among start-ups and small businesses. Being able to utilize my skills in one area helps me provide a new perspective in the other. The insight I have gained from the lean, bootstrapping approach of the startup informs my coaching in large corporations to increase efficiency. Alternatively, it is crucial for start-ups to study how corporations have either failed or succeeded in scaling up during their entry into the market.
What advice do you have for clients in maximizing the success of their coaching engagements?
Understand your strengths and how they can support your challenge areas. Remind yourself that everyone has areas for improvement. It is important not to take a coach's feedback as a personal attack on your character or personality. Instead, let the new insight pave the way for a deeper understanding of your own leadership and how to increase your impact on the bottom line.
__
Each month, Candice Henderson talks with members of the AIIR Global Coaching Alliance about the unique challenges of being a leader and coach.