This interview with Jim Trunick– an Executive Coach with AIIR Consulting – was conducted and condensed by Candice Henderson.

Q: What inspired you to become a coach? In my early years in Cincinnati, Ohio, I had success in swimming, tennis, and track. Those were all individual efforts, but I also really enjoyed being part of a team. Business was the first chance I had to see results from a team perspective – and I loved it. I had success in healthcare sales and was fascinated with the notion of achieving results through others. For example, I watched my former boss clearly demonstrate how to be successful while also showing certain traits that strongly inhibited success in others. I could also see behaviors of top and low performers benefiting or hurting our team. Once these patterns became clearer to me over time, I became increasingly compelled to leverage this information to help others adjust unproductive or ineffective behavioral patterns into successful ones. This was when I became a coach.
How has your background influenced your professional career? I believe our experiences and lessons learned growing up shape so much of how we approach communications, relationships, and results. My values of stability, dedication, commitment, and loyalty were learned growing up in a family where my dad was Director of Paper Product R&D for Proctor & Gamble. My sister worked for P&G in Global Trade her whole career, and my mom was a dental hygienist for 25 years with the same dentist. I recently left Allergan after 36 years to start my own coaching business.
What is your philosophy about human change, learning, and development? As many of us in America are blessed to live in a world full of celebration and abundance, we seem to resist embracing change. Change seems scary when we live at the top of the food chain, and yet, we all seem to aspire or identify with growth. But I believe growth will not occur without change. We hear the phrase "if it's not broke don't fix it." However, I like saying "if it's not broke – break it anyway, because somebody else is trying to." We can control people or grow people. We can't do both. Control gets us compliance. Growth gets us commitment.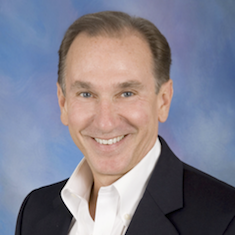 When you first started out in your work as a coach, what was one of your biggest mistakes, and what did you learn from it? I've never made a mistake as a coach – nope never. 🙂 Actually, my first big mistake was as a newly minted manager and coach of people, thinking that because I was in charge, people would do as I said. And early on, with much oversight of their work, I did get results and improved performance, as I got their hands and feet moving. What I did not get, though, was their mind or heart. As a result, I learned coaching is a thinking job and not a doing job. Before becoming a coach, I had earned great rewards in my work due to my high sense of urgency, follow-up, and determination. But those characteristics in coaching led me to over-manage, micro-manage, and stifle creativity. From these early experiences, I have learned that listening, patience, and politeness – and less Ego – leads to commitment, engagement, and motivation from others. As a result, and over time, this has become the goal in my work as a coach.
What are your strengths? I have values regarding family, fun, faith, passion, integrity, and leadership. I try to blend these values – along with my beliefs of commitment and dedication – to shape a learning spirit.
How do you leverage your strengths in your coaching work? I help others learn and touch their values for home and work. Coaching is often viewed as benefiting our work life and careers. For me, however, coaching must be inclusive of our whole person. For this reason, I am certified in corporate athlete, emotional Intelligence, and Insights discovery, as well as other models that develop people in a way that is in line with their values and whole self.
How has your extensive business experience played a role in your impact as a coach? One of my key learnings from business was the importance of action for results. Similar to business, coaching requires neutral listening and active exploring in order to achieve outcomes and results. In addition, when dealing with emotions and opinions in a high stakes work environment, my clients require challenge and insight from me as their coach. This is necessary in order to achieve their development goals and organizations results. In this way, learning and growing at the speed of business is an exciting journey, especially in the world of coaching.
How do you practice what you preach as a coach? I have coaches and mentors of my own. Teaching and listening engages my senses to further remind me of what's important. And sometimes, teachers are teaching because they need the most reminding.
__
Each month, Candice Henderson talks with members of the AIIR Global Coaching Alliance about the unique challenges of being a leader and coach.